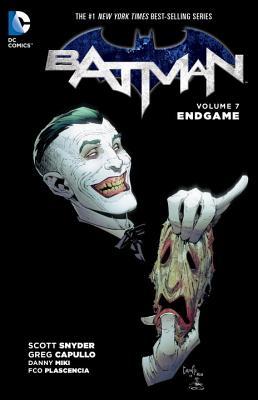 For years, the Joker has regarded Batman with a sick, twisted love, thinking that one could never exist without the other. But that's all changed. Now the Clown Prince of Crime is done playing.
He's going to kill Batman. And he's going to do it using those who Batman loves the most: the Justice League
The Joker returns to Gotham City with a deadlier agenda than ever before, using every tool at his disposal to finally kill the Dark Knight. That includes turning Batman's allies against him in the bloodiest brawl that he's ever had to survive.
BATMAN VOL. 7: ENDGAME is the biggest, boldest story that the #1
New York Times
best-selling creative team of Scott Snyder and Greg Capullo have told to date. With an ending you won't believe, this graphic novel is a classic in the making. (beskrivning lånad från goodreads, finns även på bokus, cdon och adlibris)
Tidigare volymer:
Jättebra volym. Verkligen. Grundberättelsen var superbra och spännande. Jag gillar verkligen volymer där man samlar en komplett storyline. Den här volymen innehåller bara Endgame issues liksom! Dessutom sjukt snyggt illustrerad:
Men slutet. Skojar dem med mig eller? Spoiler:
Batman dör, tillsammans med Jokern. Både det här och att de dödade Damian. Varför?
Spoiler out. Vi får se var det här tar vägen i nästa volym!
Något jag tänkte på när jag läste den här var att den är ganska lik Grant Morrisons handlingar och tankar. Det är inte jättetydligt kanske men fick ändå ganska starka Morrison vibbar när jag läste det.
De flesta comics avlutas ofta med någon slags sensmoral eller budskap typ. Jag insåg just att jag nästan aldrig förstår dessa. Helt sjukt. Men det börjar ganska bra och man hänger med, sedan bara svävar det ut totalt och jag hänger inte alls med. Förstår inte varför men så är det, märkligt. Men annars jättebra volym.