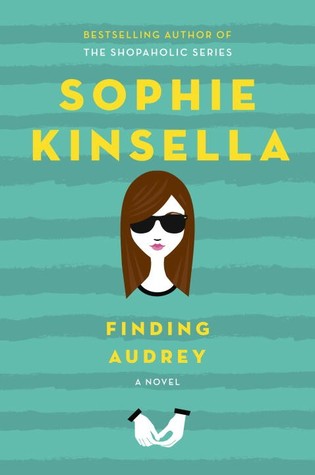 An anxiety disorder disrupts fourteen-year-old Audrey's daily life. She has been making slow but steady progress with Dr. Sarah, but when Audrey meets Linus, her brother's gaming teammate, she is energized. She connects with him. Audrey can talk through her fears with Linus in a way she's never been able to do with anyone before. As their friendship deepens and her recovery gains momentum, a sweet romantic connection develops, one that helps not just Audrey but also her entire family. (beskrivning lånad från goodreads, finns även på bokus, cdon och adlibris)
Sophie Kinsellas fristående böcker, så som Mina Hemligheter, Mitt nya jag, och Karriär och köksbesvär, tycker jag är riktigt bra feel-good/sommarböcker. Samtidigt hatar jag hennes Shopaholic-serien (jag klarar inte av huvudkaraktären). Som tur var hatade jag inte någon av karaktärerna i den här boken.
Jag tycker att Kinsella leverar en helt okej bok. Framförallt då hon tar upp ett viktigt ämne och verkligen lägger fokus på det. fokus ligger inte alls på hur hon hamnade där hon är, utan verkligen på vad som händer efteråt. Det gillar jag.
Underhållande bok. Gillade verkligen hela grejen med att hennes bror spelar något spel och att det är ett tema i boken. Trevlig läsning!