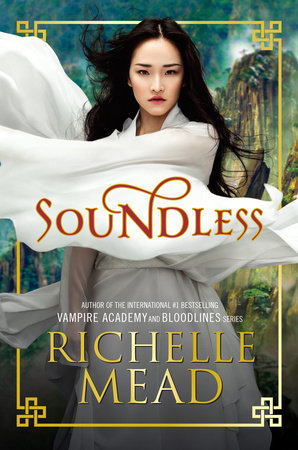 From Richelle Mead, the #1 internationally bestselling author of Vampire Academy and Bloodlines, comes a breathtaking new fantasy steeped in Chinese folklore.
For as long as Fei can remember, there has been no sound in her village, where rocky terrain and frequent avalanches prevent residents from self-sustaining. Fei and her people are at the mercy of a zipline that carries food up the treacherous cliffs from Beiguo, a mysterious faraway kingdom.
When villagers begin to lose their sight, deliveries from the zipline shrink and many go hungry. Fei's home, the people she loves, and her entire existence is plunged into crisis, under threat of darkness and starvation.
But soon Fei is awoken in the night by a searing noise, and sound becomes her weapon.
Richelle Mead takes readers on a triumphant journey from the peak of Fei's jagged mountain village to the valley of Beiugo, where a startling truth and an unlikely romance will change her life forever... (beskrivning lånad från goodreads, finns även på bokus, cdon och adlibris)
Häftig bok. Jag gillar verkligen hela konceptet med att de är döva och håller på att bli blinda med. Hela grejen med hur man kommunicerar och liknande är jättespännande. Även hur ett samhälle där man inte kan höra fungerar. Hur vaknar man i tid på morgonen när man inte kan höra ens väckarklocka liksom? Det är häftigt hur man kan fungera utan sin hörsel men även ganska slående hur beroende vi faktiskt är av den. Därav även problematiskt när de även håller på att förlora synen också.
Älskar även settingen. Jag föreställer mig att det ser ut väldigt mycket som Nanda Parbat från Batman och andra DC comics böcker/filmer/tv-serier. Det är väl i Batman Begins som man får se en hel del därifrån. Men bara pluspoäng på det! Jättebra.
Tyvärr, är ju jag inte alls bekant med kinesisk/asiatisk kultur. Det är en stor brist i min kunskapsbas. Det är kul att Mead skriver en bok om detta och för in andra influenser i YA-literaturen. Men jag har samtidigt ganska svårt att förstå och veta vad som är typiska traditioner/mytologier i österländsk kultur. Man förstår ju innehållet i boken men det är säkerligen vissa saker som jag inte alls snappar upp eller kopplar, då jag inte har koll på kulturen. Men det är en början. Mead får gärna skriver mer liknande böcker för min del.
Precis som Meads andra böcker har boken ett bra flyt med språket, upplevde det till och med lite lättare än språket i Bloodlines eller framför allt Age of X-serien. Hon har skapat bra och intressanta karaktärer men då man bara träffar dem i en bok så fäster man sig inte lika mycket vid dem som exempelvis Adrian som varit med i typ 11 böcker av Mead (i både VA och Bloodlines). Även skriven i first person, så man får verkligen uppleva sakerna som Fei gör och det gör det till ett spännande äventyr.
Kan verkligen rekommendera att ni läser den! Bra bok att börja med om ni inte har läst något av Mead innan och ni som är väl inlästa på Meads böcker vet att hon brukar leverera ganska bra böcker ändå!