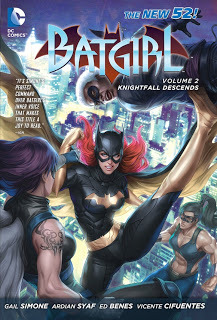 KNIGHTFALL IS COMING.
Three years after the Joker's vicious attack left her paralyzed, Barbara Gordon has regained the use of her legs and reclaimed her mantle as Batman's ally Batgirl. Recovered physically but not emotionally, Barbara is not the hero she once was. Until she can conquer her demons, Batgirl can't fully return.
Or keep Gotham safe.
But the city will soon need Batgirl more than ever, with the ruthless vigilante Knightfall taking control of the streets. Knightfall and her followers will execute every criminal they find, down to the pettiest offenders. Can Barbara find the strength within herself to stop it? Or will crime in Gotham finally be wiped out - brutally, lethally and permanently? (beskrivning lånad från goodreads, finns även på bokus, cdon och adlibris)
Läs om vol.1 här!
Batgirl är jättebra. Barbara Gordon och Batgirl som karaktär är riktigt bra. Det är intressant att lära sig mer om hennes familj - även brodern introduceras i den här volymen. Jag gillar även hennes voice och sätt att se på saker och ting, samtidigt som hon är en duktig fighter. Det gör Bargirl till en riktgt bra karaktär.
Jag gillar även handlingen. Knightfall är verkligen inte en traditionell skurk men ändå en bra sådan. Gillar även att de faktiskt slänger in ett litet avsnitt som utspelar sig under "Night of The Owls" som också är del av de två första numren av Snyder's Batman. Batgirl kämpar mot en slags kvinnlig version av Talon. Vi får även lite inhopp av Batwoman och Dinah Lance aka. Black Canary.
Ser verkligen fram emot att läsa nästa volym som är Death of The Family! Det kommer bli fantastiskt bra!