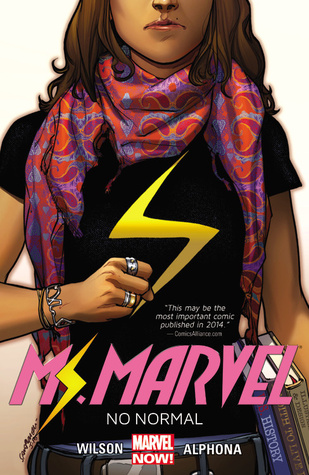 Marvel Comics presents the new Ms. Marvel, the groundbreaking heroine that has become an international sensation!

Kamala Khan is an ordinary girl from Jersey City — until she's suddenly empowered with extraordinary gifts. But who truly is the new Ms. Marvel? Teenager? Muslim? Inhuman? Find out as she takes the Marvel Universe by storm! When Kamala discovers the dangers of her newfound powers, she unlocks a secret behind them, as well. Is Kamala ready to wield these immense new gifts? Or will the weight of the legacy before her be too much to bear? Kamala has no idea, either. But she's comin' for you, Jersey!

It's history in the making from acclaimed writer G. Willow Wilson (Air, Cairo) and beloved artist Adrian Alphona (RUNAWAYS)! Collecting MS. MARVEL (2014) #1-5 and material from ALL-NEW MARVEL NOW! POINT ONE #1.
(beskrivning lånad från goodreads, finns även på bokus, cdon och adlibris)
Jag lånade den här från bibblan vid ett tidigare tillfälle men då läste jag inte klart den. Fastnade inte för den. Dock tänkte jag att jag skulle ge den en ny chans. Och jag läste i allafall klart den. Jag uppskattar det de försöker göra med berättelsen och tycker verkligen att den tillför något bra till comics världen. För det saknas riktigt bra "diverse" comics med tjejer som huvudkaraktär.
Jag tror även att det här är min första comics från Marvel. Jag är ju annars väldigt mycket inne på DC och Image. Jag fick bara en känsla av att andra karaktärer inom Marvel-världen är mer närvarande inom Ms. Marvel och andra comics. Dock kan det vara begränsat bara till det här verket och bara något väldigt tillfälligt. Men det är kul när man verkligen märker att allt är inom samma värld.
Tyvärr fastnade jag kanske inte så pass mycket som jag hade hoppats på. Jag kan nog tänka mig att läsa vidare men det är liksom inte det bästa jag läste. Fastnade inte heller riktigt för tecknar stilen, då det ibland blir lite för mycket cartoon-aktigt. Alltså, alltför icke-detaljerat. Ibland kändes det väldigt platt och ibland målas karaktärerna typ som en blob. Jag gillar inte riktigt det.