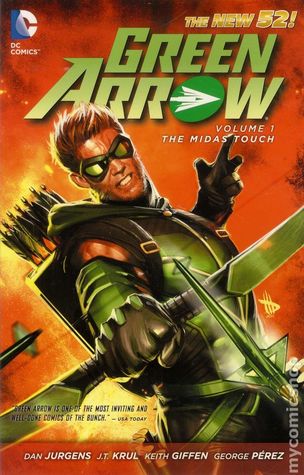 The Emerald Archer returns, relaunched for a new generation of readers.
The masked vigilante Green Arrow is used to looking for trouble, but now trouble's come looking for him Enter Rush and his gang of thrill-seeking trust fund babies, buying their super powers and treating the world as their playground. Along with their rotting man-monster Midas and the assassin Blood Rose, Rush plans to kill a super hero live on the Internet. Even with his cutting-edge weapons and tech from Q-Core, the odds are stacked against Green Arrow.
From Dan Jurgens ("Superman"), J.T. Krul ("Captain Atom"), Keith Giffen ("O.M.A.C.") and George Perez ("Worlds' Finest"), this latest chapter of "Green Arrow "is a can't-miss event. (Beskrivning lånad från goodreads, finns även på bokus, cdon och adlibris)
Läs om #1 i volymen här!
Efter att ha läst den första volymen som är del av The New 52, så var jag inte helt övertygad om jag skulle läsa vidare den här serien. Dock hittade jag den på bibblan och tänkte att jag ändå skulle ge det en chans.
Jag tycker ändå att det är en okej serie. Jag har kommit över grejen med att jämföra varenda liten detalj med tv-serien. Vilket är svårt då tv-serien är så himla bra. Men comics:en levererar ändå en bra och spännande story. Man känner ändå igen Oliver om man återigen jämför med tv-serien, typ i och med vissa kommentarer och liknande. Successivt får man även reda på mer om karaktärer i hans närhet dock hade jag gärna velat veta mer om dem.
Än så länge har man inte heller fått reda på så mycket bakgrundsinformation om Green Arrow/Oliver vilket också skulle kunna vara väldigt spännande att läsa om. Det finns säkert även mycket att lära om Green Arrow mytologin som man kan ha nytta av när man kollar på tv-serien. Kul att jag seriöst tänker på att läsa comics som research för en tv-serie. Märkligt men underbart. Så just nu lockar det att läsa vidare i serien!