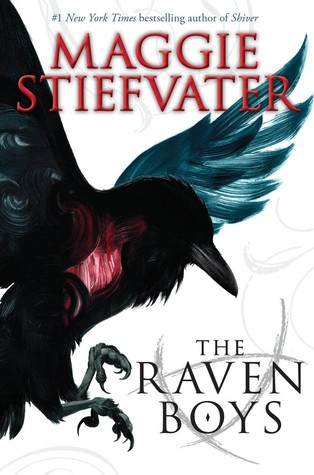 "There are only two reasons a non-seer would see a spirit on St. Mark's Eve," Neeve said. "Either you're his true love . . . or you killed him."
It is freezing in the churchyard, even before the dead arrive.
Every year, Blue Sargent stands next to her clairvoyant mother as the soon-to-be dead walk past. Blue herself never sees them—not until this year, when a boy emerges from the dark and speaks directly to her.
His name is Gansey, and Blue soon discovers that he is a rich student at Aglionby, the local private school. Blue has a policy of staying away from Aglionby boys. Known as Raven Boys, they can only mean trouble.
But Blue is drawn to Gansey, in a way she can't entirely explain. He has it all—family money, good looks, devoted friends—but he's looking for much more than that. He is on a quest that has encompassed three other Raven Boys: Adam, the scholarship student who resents all the privilege around him; Ronan, the fierce soul who ranges from anger to despair; and Noah, the taciturn watcher of the four, who notices many things but says very little.
For as long as she can remember, Blue has been warned that she will cause her true love to die. She never thought this would be a problem. But now, as her life becomes caught up in the strange and sinister world of the Raven Boys, she's not so sure anymore.
From Maggie Stiefvater, the bestselling and acclaimed author of the Shiver trilogy and The Scorpio Races, comes a spellbinding new series where the inevitability of death and the nature of love lead us to a place we've never been before. (beskrivning lånad från goodreads, finns även på bokus, cdon och adlibris)
Först och främst kan man ju bara konstatera att Stiefvater är en fantastisk författare. Hon har ett sådant häftigt sätt att använda ord och förklara saker på. Bara det gör det värt att läsa hennes böcker.
Sedan skapar hon ju ofta väldigt intressanta världar och berättelser. Detta är inte ett undantag. Just nu vet jag inte riktigt var det här kommer att ta vägen men det är i alla fall bra. Tyvärr var/är jag inte jätteintresserad. Det är bra men inte superfantastisk-jag-hoppar-up-och-ned-bra. Känner att jag inte riktigt fastnar för det. Men det är fortfarande tillräckligt bra för att läsa vidare. För jag undrar verkligen var det här ska ta vägen! Hoppas att bok nummer #2 fångar mitt intresse mer!