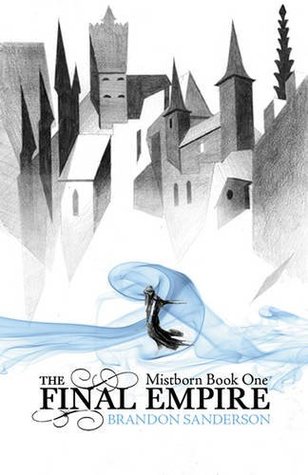 The mists rule the night...
The Lord Ruler owns the world.
FOR THOUSAND YEARS THE ASH FELL.
For a thousand years, the Skaa slaved in misery and lived in fear. For a thousand years, the Lord Ruler reigned with absolute power and ultimate terror, divinely invincible. Every attempted revolt had fail miserably.
YET SOMEHOW HOPE SURVIVES.
A new kind of uprising is being planned, one that depends of the cunning of a brilliant criminal mastermind and the courage of an unlikely heroine, a Skaa street urchin, who must learn to master Allomancy, the power of a mistborn.
What if the prophesied hero had failed to defeat the Dark Lord? The answer will be found in the Mistborn trilogy, a saga of surprises that begins here. (beskrivning lånad från baksidan på boken, finns att läsa om på goodreads och att införskaffa på bokus, cdon och adlibris)
Först och främst är jag faktiskt lite stolt över mig själv att jag läste klart den här. Det var länge sedan jag läste en så pass lång bok och framför allt då det är typ den första "riktiga" (high) fantasy boken jag läst. Då fantasyböcker generellt har ett språk som jag inte är enormt van vid. Dessutom är den på engelska och det tar ju nästan alltid längre tid att läsa. Så, bra jobbat Lovisa!
För övrigt var det här fantastiskt bra. Vilken bok! Det är jättesvårt att skriva om den utan att spoila någonting men här kommer lite ändå.
Det är framför allt en häftig värld som Sanderson har skapat. Dels i och med den fysiska världen och dess historia, men även i och med Allomancy (och vad som är möjligt/icke-möjligt att göra med dessa krafter). Det är sjukt häftigt.
Sanderson har även skapat väldigt intressanta och "bra" karaktärer; Vin, Kelsier, Sazed, Elend och alla de andra i crew:et. Det han gör framför allt bra är att han ger tid till karaktärsutveckling. Huvudkaraktärerna förändras inte bara över en natt, utan det är process som man faktiskt märker och ser i texter - det är inte bara någon som berättar att man är på ett visst sätt utan man märker det när man läser texten.
Jag är så glad att jag äntligen läste den här (är ca 1 år sedan jag för första gången fick höra talas om den!). För den är riktigt, riktigt bra. Ser verkligen fram emot att läsa nästa bok!
Vill ni nörda, då är det bara att kommentera!