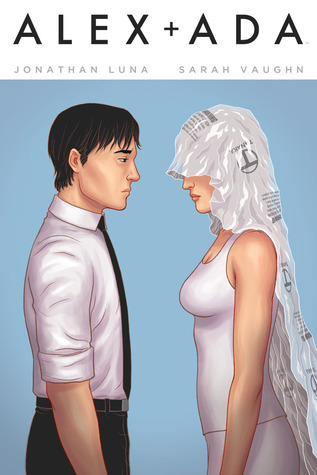 From JONATHAN LUNA (GIRLS, THE SWORD, Spider-Woman, ULTRA) and SARAH VAUGHN (Sparkshooter) comes ALEX + ADA, a sci-fi drama set in the near future. The last thing in the world Alex wanted was an X5, the latest in realistic androids. But when Ada is dropped into his life, will Alex keep her?
This will be JONATHAN LUNA's return to comics after three years off since the end of THE SWORD!
(beskrivning lånad från goodreads)
Det här var ju intressant. Precis som beskrivningen säger, så är det ett sci-fi drama i framtiden, vilket är ganska annorlunda mot vad jag vanligen brukar läsa. Det är liksom inte Batman direkt. Men det är intressant. Man vill verkligen veta var det här kommer att ta vägen.
Än så länge handlar det mycket om teknologisk utveckling - vad de har som inte vi har. Typ telefoner inplanterade i hjärnan, androids(obviously) med mera. Spännande.
Det är även häftigt illustrerat. Gillar verkligen att det är väldigt enkelt och minimalistiskt. Typ som ni ser på omslaget. Mycket fint!