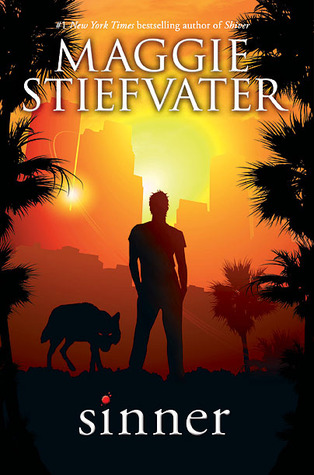 A standalone companion book to the internationally bestselling Shiver Trilogy.
Sinner follows Cole St. Clair, a pivotal character from the #1 New York Times bestselling Shiver Trilogy. Everybody thinks they know Cole's story. Stardom. Addiction. Downfall. Disappearance. But only a few people know Cole's darkest secret -- his ability to shift into a wolf. One of these people is Isabel. At one point, they may have even loved each other. But that feels like a lifetime ago. Now Cole is back. Back in the spotlight. Back in the danger zone. Back in Isabel's life. Can this sinner be saved? (beskrivning lånad från goodreads, finns även på bokus, cdon och adlibris)
Det är alltid samma sak med Stiefvaters böcker och mig. Det tar emot en så himla massan innan jag väl börjar läsa böckerna, men när jag väl börjar så tycker jag dem oftast är jättebra. Verkligen konstigt, men så är det. Tyvärr.
För det är verkligen bra böcker. Otroligt välskrivna och bra berättelser. Tyvärr så kommer jag inte ihåg så mycket från de tre andra böckerna i Mercy Wolves-serien dock fokuserar ju de mer på Grace och Sam, men ändå, det gör det lite svårare att fatta vissa referenser. Dock är det en standalone så det funkar ju tydligen att läsa den utan att komma ihåg!
Jag tycker att det var väldigt spännande att fördjupa sig mer i Cole och även Isabel. Jag sitter här och funderar på hur jag ska kunna förklara Cole och Isabel, men de är nog några av de mest komplexa karaktärer som jag någonsin läst om, så det går nästan inte att sätta ord på det. Det är nästan som att man hamnar i ett inside-joke och man får bara leva med att man (ännu) inte fattar. Så upplevde jag det i alla fall.
Bra bok. Jag gillar att den är väldigt annorlunda gentemot de tidigare böcker i Mercy Falls(The werewolf thing isn't EVERYTHING!). Det är även en otroligt smart bok, ganska hemsk och sorglig, men väldigt smart.
Så nu (verkar) den här serien vara över i alla fall. Nu kommer det väl, enligt mina vanliga sätt, att dröja några månader innan jag äntligen tar tag i The Raven Cycle också!