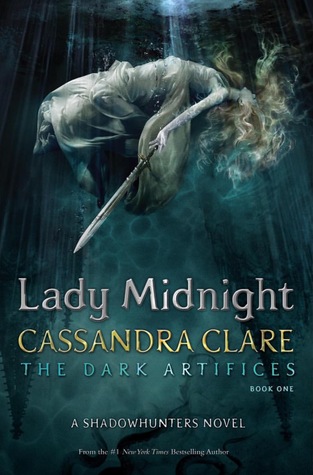 The Shadowhunters of Los Angeles star in the first novel in Cassandra Clare's newest series, The Dark Artifices, a sequel to the internationally bestselling Mortal Instruments series.
Lady Midnight
is a Shadowhunters novel.
It's been five years since the events of
City of Heavenly Fire
that brought the Shadowhunters to the brink of oblivion. Emma Carstairs is no longer a child in mourning, but a young woman bent on discovering what killed her parents and avenging her losses.
Together with her parabatai Julian Blackthorn, Emma must learn to trust her head and her heart as she investigates a demonic plot that stretches across Los Angeles, from the Sunset Strip to the enchanted sea that pounds the beaches of Santa Monica. If only her heart didn't lead her in treacherous directions…
Making things even more complicated, Julian's brother Mark—who was captured by the faeries five years ago—has been returned as a bargaining chip. The faeries are desperate to find out who is murdering their kind—and they need the Shadowhunters' help to do it. But time works differently in faerie, so Mark has barely aged and doesn't recognize his family. Can he ever truly return to them? Will the faeries really allow it?
Glitz, glamours, and Shadowhunters abound in this heartrending opening to Cassandra Clare's Dark Artifices series. (beskrivning lånad från goodreads, finns även på bokus, och adlibris)
Äntligen är den här! Lady Midnight, Shadowhunter-världen och Clare's skrivande! Så som jag har längtat!
Cassandra Clare avslutande sina två tidigare serier på ett ofantligt bra sätt med Clockwork Princess och City of Heavenly Fire. Jag kommer ihåg hur välskrivna jag tyckte att de var när jag läste dem. Allting känns välplanerat, genomtänkt och verkligen som att hon har tänkt igenom det. Hon fortsätter på samma nivå som hon avslutade de tidigare serierna. Det är helt enkelt superbra!
Redan i COHF lärde vi känna Emma, Julian och de andra Blackthorns som den här serien kretsar kring, och redan då gillade vi dem. Det är väldigt roligt att läsa vidare om dem och lära känna dem bättre i den här boken. Jag tycker att Clare är väldigt duktig på att skapa bra, komplexa och intressanta karaktärer. I den här storyn bryter hon verkligen mot normer och inkluderar olika karaktärer, och hon gör det på ett väldigt bra sätt.
Dessutom en spännande, underhållande, roligt, sorglig och massa annat (aka. forbidden love as always) berättelse. Feel good to be back in the Shadowhunter-business. Dels kul att läsa sig mer om vad som har hänt sedan händelserna i TMI och även att lära sig mer om världen som helhel då Clare förhoppningsvis kommer att fortsätta utveckla världen. De här och kommer bli väldigt spännande i de kommande böckerna - hoppas jag!
Jag lyssnade för övrigt på ljudboken vilken var bra. Inläst av Morena Baccarin, om ni inte vet vem det är, så är hon med i Firefly! Men hon har en bra röst, hon har även varit röstskådesspelare i flera animerade filmer - typ Batman. Så jag tyckte att det funkade väldigt bra!