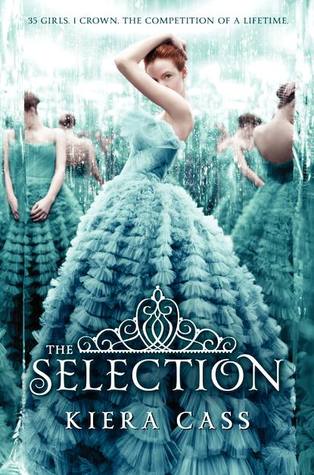 For thirty-five girls, the Selection is the chance of a lifetime. The opportunity to escape the life laid out for them since birth. To be swept up in a world of glittering gowns and priceless jewels. To live in a palace and compete for the heart of gorgeous Prince Maxon.
But for America Singer, being Selected is a nightmare. It means turning her back on her secret love with Aspen, who is a caste below her. Leaving her home to enter a fierce competition for a crown she doesn't want. Living in a palace that is constantly threatened by violent rebel attacks.
Then America meets Prince Maxon. Gradually, she starts to question all the plans she's made for herself--and realizes that the life she's always dreamed of may not compare to a future she never imagined.
(beskrivning lånad från goodreads, finns även på bokus, cdon och adlibris)
Okej bok, tycker kanske inte att det är det bästa jag har läst men det är okej. Storyn fångar mitt intresse och jag vill veta vad som kommer att hända. Jag tyckte att det var intressant med "the rebel attacks" och hur utsatta de är till och med på "palatset"(de har hemliga lönngångar - vem gillar inte det liksom - hoppas på mer sådant i de kommande böckerna).
Jag funderar en del på själva dystopi-delen av boken - vilket framför allt visas i och med att de lever i ett slags kast-samhälle. Kast-samhälle finns väl idag egentligen bara i Indien. Därav har jag lite svårt att se det som en möjlig framtida situation i ett dystopiskt-USA. Jag tänker mig absolut att det uppkommer olika klasser men att man skulle kalla ett kast system går inte riktigt hem för mig. Det skulle kanske vara mer sannolikt om man fick ett namn som snarare handlade om yrke eller bostadsområde eller liknande.
Och till min sista fundering: varför måste det alltid vara ett triangeldrama? Visserligen handlar ju hela boken om det den handlar om. Men America - Aspen - Maxon liksom? Varför? Det är ju inte så att det inte redan fanns en legitim anledning för henna att inte vara tillsammans med Maxon - de känner inte varandra! Good enough reason for me! Men tydligen inte tillräckligt utan hon var tvungen att vara kär i någon annan med. Men men.
Men ska absolut läsa vidare i serien - så det är väl ett tillräckligt bra betyg på boken!