The Dark Elements #1: White Hot Kiss - Jennifer L. Armentrout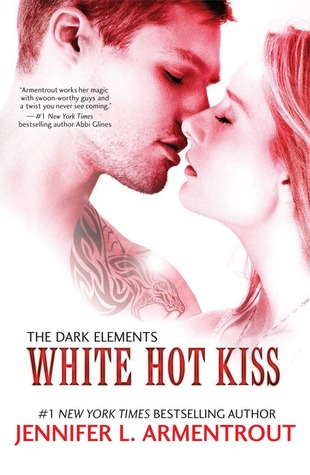 One kiss could be the last.
Seventeen-year-old Layla just wants to be normal. But with a kiss that kills anything with a soul, she's anything but normal. Half demon, half gargoyle, Layla has abilities no one else possesses.
Raised among the Wardens—a race of gargoyles tasked with hunting demons and keeping humanity safe—Layla tries to fit in, but that means hiding her own dark side from those she loves the most. Especially Zayne, the swoon-worthy, incredibly gorgeous and completely off-limits Warden she's crushed on since forever.
Then she meets Roth—a tattooed, sinfully hot demon who claims to know all her secrets. Layla knows she should stay away, but she's not sure she wants to—especially when that whole no-kissing thing isn't an issue, considering Roth has no soul.
But when Layla discovers she's the reason for the violent demon uprising, trusting Roth could not only ruin her chances with Zayne… it could brand her a traitor to her family. Worse yet, it could become a one-way ticket to the end of the world. (beskrivning lånad från goodreads, finns även på bokus, cdon och adlibris)
Jag tyckte att den var ganska seg i början och generellt inte alls på samma nivå som de första böckerna i Lux-serien. Det blev visserligen lite mer intressant på slutet men jag vet faktiskt inte om jag ens kommer att läsa vidare på den här serien. Det var inte jätteinspirerande läsning. Tyvärr.
Rusk University #1: All Lined Up - Cora Carmack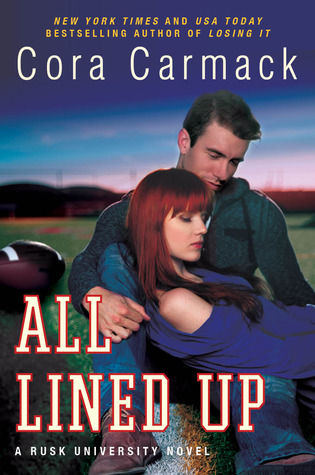 In Texas, two things are cherished above all else—football and gossip. My life has always been ruled by both.
Dallas Cole loathes football. That's what happens when you spend your whole childhood coming in second to a sport. College is her time to step out of the bleachers, and put the playing field (and the players) in her past.
But life doesn't always go as planned. As if going to the same college as her football star ex wasn't bad enough, her father, a Texas high school coaching phenom, has decided to make the jump to college ball… as the new head coach at Rusk University. Dallas finds herself in the shadows of her father and football all over again.
Carson McClain is determined to go from second-string quarterback to the starting line-up. He needs the scholarship and the future that football provides. But when a beautiful redhead literally falls into his life, his focus is more than tested. It's obliterated.
Dallas doesn't know Carson is on the team. Carson doesn't know that Dallas is his new coach's daughter.
And neither of them know how to walk away from the attraction they feel.
(beskrivning lånad från goodreads, finns även på bokus, cdon och adlibris)
Precis som Carmacks andra böcker, så är det generellt trevlig, relativt lätt och rolig läsning. Texas och football är ju alltid roligt. Inte den mest minnesvärda boken, men är helt klart mer belägen att läsa fortsättningen här än av The Dark Elements!