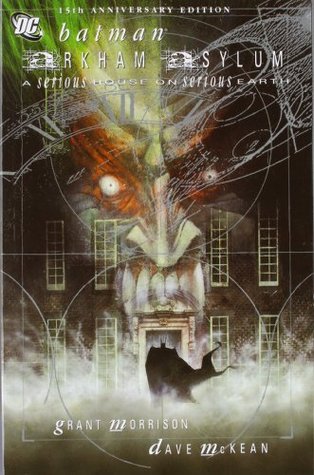 In this groundbreaking, painted graphic novel, the inmates of Arkham Asylum have taken over Gotham's detention center for the criminally insane on April Fools Day, demanding Batman in exchange for their hostages. Accepting their demented challenge, Batman is forced to live and endure the personal hells of the Joker, Scarecrow, Poison Ivy, Two-Face and many other sworn enemies in order to save the innocents and retake the prison. During his run through this absurd gauntlet, the Dark Knight's own sanity is placed in jeopardy. (beskrivning lånad från goodreads, finns även på bokus, cdon och adlibris)
Den här volymen publicerades första gången -89, 25års utgåvan kom ut för något år sedan. Arkham Asylum anses vara grunden till nästan alla berättelser om Arkham, och har säkerligen haft stort inflytande över tanken på att Batman är lika galen själv som Joker och alla de andra som befinner sig på Arkham.
I den här volymen får vi dels följa Batman som tvingas in till Arkham då fångarna (återigen) har tagit kontrollen över Arkham. Men dels får vi också följa Amadeus Arkham som är grundaren till Arkham Asylum och hans liv/ "galenheter".
Precis som alla andra verk av Morrison är det ganska konstigt. Dock upplever jag att det var någorlunda lätt att hänga med i storyn och man förstår det mesta. Så ändå ganska nedtonad för att vara Morrison - men den skrev som sagt redan på 80-talet. Dock upplever jag inte att Batmans "sanity" är "in jeopardy" som de skriver i beskrivningen - utan upplever att han hanterar det ganska väl ändå. Samtidigt citerar Morrison Lewis Carroll och Alice i Underlandet i början av boken:
"How do you know I' mad? Said Alice."
"You must be, said the cat, or you wouldn't have come here"
Batman väljer att gå in i Arkham på Jokerns begäran och han ställer upp på Jokerns "lekar" - varför?
- He might be mad.
Generellt tycker jag att det är värt att läsa boken, men tycker nog inte att det är en av mina absoluta favoriter direkt. Men den är bra. Spännande, intressant, lite äcklig och hemsk med. Handlar inte så mycket om Batman specifikt, utan mer indirekt, och mer om iden om att vara galen och Arkham (både huset och personen). Och en del andra bra grejer!
Det som är ett stort plus är att den är väldigt coolt illustrerad. Man har blandat lite olika metoder/stilar genom boken, och det mesta är bara mörker. Väldigt häftigt och annorlunda. Upplever att det är lite likt Brian Michael Bendis Jessica Jones: Alias och Daredevil. Utöver att illustrationerna i sig är annorlunda så har man inte alls följt något av de traditionella mönstren för panelerna, utan de har varit väldigt kreativa med upplägget för varje sida. Riktigt häftigt gjort! Exempelvis: