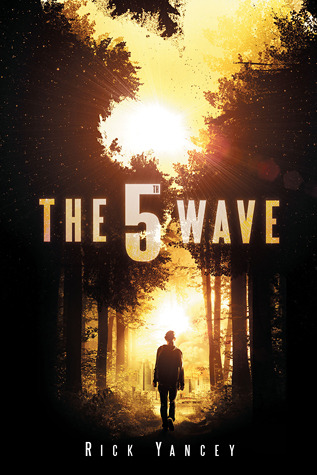 After the 1st wave, only darkness remains. After the 2nd, only the lucky escape. And after the 3rd, only the unlucky survive. After the 4th wave, only one rule applies: trust no one.
Now, it's the dawn of the 5th wave, and on a lonely stretch of highway, Cassie runs from Them. The beings who only look human, who roam the countryside killing anyone they see. Who have scattered Earth's last survivors. To stay alone is to stay alive, Cassie believes, until she meets Evan Walker.
Beguiling and mysterious, Evan Walker may be Cassie's only hope for rescuing her brother—or even saving herself. But Cassie must choose: between trust and despair, between defiance and surrender, between life and death. To give up or to get up.
(beskrivning lånad från goodreads, finns även på bokus, cdon och adlibris)
Okej bok, hade hoppats på att den skulle vara bättre faktiskt. Tanken bakom boken är ju intressant. Även fast jag inte är så värst intresserad av aliens så tycker jag ändå det var intressant att följa den utvecklingen då man får läsa om de olika "vågorna", och det känns som en väldigt bra plan för att ta över jorden liksom.
Men jag tycker att boken är alldeles för seg. Jag stör mig något så enormt på att boken är uppdelad i olika delar; det hade varit rimligt om det var 5 delar eller något, men den här är typ 12 delar. Det är även typ 100 kapitel och det är flera kapitel med samma scen. Det går inte riktigt hem för mig - speciellt inte efter att man läst Mistborn och Outlander.
Jag har ännu inte bestämt mig för om jag ska läsa vidare i serien eller inte, någon som läst tvåan: The Infinite Sea, är den något att ha?