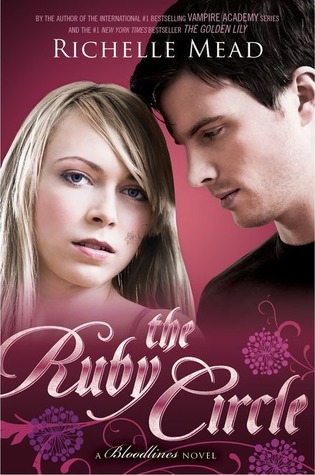 The epic conclusion to Richelle Mead's New York Times bestselling Bloodlines series is finally here...

Sydney Sage is an Alchemist, one of a group of humans who dabble in magic and serve to bridge the worlds of humans and vampires. They protect vampire secrets—and human lives.

After their secret romance is exposed, Sydney and Adrian find themselves facing the wrath of both the Alchemists and the Moroi in this electrifying conclusion to Richelle Mead's New York Times bestselling Bloodlines series. When the life of someone they both love is put on the line, Sydney risks everything to hunt down a deadly former nemesis. Meanwhile, Adrian becomes enmeshed in a puzzle that could hold the key to a shocking secret about spirit magic, a secret that could shake the entire Moroi world.
(beskrivning lånad från goodreads, finns även på bokus, cdon och adlibris)
Här kommer ett aningen osammanhängande och relativt konstigt inlägg... enjoy!
Alltså det är så otroligt sorgligt att det är över. Det är slut. Inget mer. Jobbigt. Men det känns bra. Det var bra, spännande, underhållande, roligt, Sydrian, Romitri och massa annat fantastiskt. Precis vad vi förväntar oss och vill ha. Kanske tycker att några av de tidigare böckerna i serien är aningen bättre men den här boken fick en 5:a ändå. Den förtjänar det.
Jag läste eller såg nån intervju med Mead där hon typ berättade att hon faktiskt tagit in en del grejer i boken som hennes fans "promotat/pitchat"(Möjligen spoiler:
ni som läst VA-fan fiction vet vad som pitch:as där. Där är det vardag att det "går"
). Man vet ju inte exakt vad men ändå kul att hon gjort det. Man kan ju bara tänkas sig vad det är hon tagit in!
Jag vet inte riktigt vad jag ska/kan skriva. Om någon vill nörda - kommentera så nördar jag allt jag kan! Men det är ändå en bra avslutning. Det är kanske inte det mest överraskande men man blir ändå alltid överraskad på ett eller annat sätt när man läser Richelle Meads böcker och Bloodlines.
Ps. om någon har koll på vad the Ruby Circle är?
PPS. sökte i ibooks på "ruby", det enda som kom fram var Sydney's ring. Borde kanske vara det som det syftas på?!
PPPS: Exempel på vad man kan nörda om(MAJOR SPOILERS!):
1) Rand(Randall) Ivaskhov - Dimitris pappa - Adrians farbror = they are cousins!
2) Declan. And all the possibilities....
3) Wild Pine Intentional Community. Spännade att faktiskt besöka ett "blood whore"- community!
4) Alldeles för lite om Hopper. Saknade honom. Samtidigt har de ju Declan nu.
5) Man måste älska att Sydney är så smart som hon är!
6) Annat!
The End.