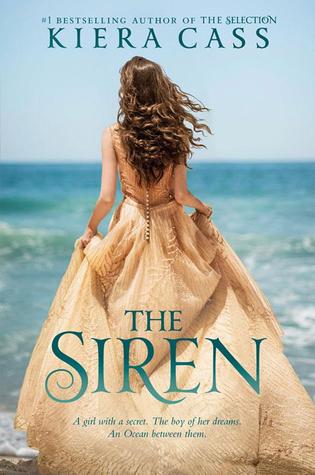 Love is a risk worth taking.
Years ago, Kahlen was rescued from drowning by the Ocean. To repay her debt, she has served as a Siren ever since, using her voice to lure countless strangers to their deaths. Though a single word from Kahlen can kill, she can't resist spending her days on land, watching ordinary people and longing for the day when she will be able to speak and laugh and live freely among them again.
Kahlen is resigned to finishing her sentence in solitude…until she meets Akinli. Handsome, caring, and kind, Akinli is everything Kahlen ever dreamed of. And though she can't talk to him, they soon forge a connection neither of them can deny…and Kahlen doesn't want to.
Falling in love with a human breaks all the Ocean's rules, and if the Ocean discovers Kahlen's feelings, she'll be forced to leave Akinli for good. But for the first time in a lifetime of following the rules, Kahlen is determined to follow her heart. (beskrivning lånad från goodreads, finns även på bokus, cdon och adlibris)
Jag tyckte att konceptet lät lite spännande innan jag påbörjade den här. Men jag tror att om folk sett mitt ansikte när jag lyssnade på den här så skulle de vara mycket fundersamma över mitt högst ifrågasättande ansiktsuttryck. För WTF. Seriöst, det är nästan på den nivån. Det är illa.
Visserligen måste det finnas variation bland böckerna som publiceras och vissa av dem måste handla om "true love", soulmates och annat. Ja, detta är en av de böckerna. Och Kiera Cass verkar ju verkligen vilja skriva om det. Men det här håller inte riktigt. Hela den här boken handlar typ om att hennes mål med livet är att vara tillsammans med en kille som hon typ träffat två gånger och aldrig ens pratat med. Är det verkligen ett bra budskap?! Me think not.
Dessutom faller den ju i hela sin mytologi. För vi som läsare får inte veta vilka premisser som faktiskt gäller för hela den här situationen. Jag tror nämligen verkligen inte att det någonsin nämns att de inte får avslöja att de är Sirens. Då är det ju bara att berätta det, eller kanske skriva ned det i detta fallet då.
Tyvärr kan jag inte direkt säga att jag är förvånad över att jag tycker som jag göra - i och med att Cass tidigare har skrivit The Selection-serien. Dessutom är det alltid tråkigt när man inte gillar böckerna man läser. The Siren hamnar inte högt på min lista över bra böcker.