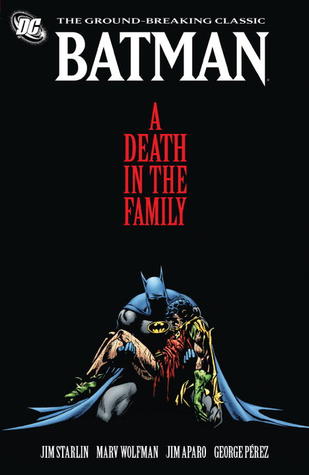 Batman readers were allowed to vote on the outcome of the story and they decided that Robin should die! As the second person to assume the role of Batman's sidekick, Jason Todd had a completely different personality than the original Robin. Rash and prone to ignore Batman's instructions, Jason was always quick to act without regard to consequences. In this fatal instance, Robin ignores his mentor's warnings when he attempts to take on the Joker by himself and pays the ultimate price. Driven by anger with Superman by his side, Batman seeks his vengeance as he looks to end the Joker's threat forever.
Collects BATMAN #426-429, 440-442 and THE NEW TITANS #60-61. (Beskrivning lånad från goodreads, finns även på bokus, cdon och adlibris)
En lite äldre Batman-comics som publicerades 1988, typ samma veva som The Dark Knight Returns publicerades - dock är de substantiellt annorlunda från varandra. Den här är helt klart mer old school. Vilket dels märks på sättet som den är illustrerad med stilen och färgerna, men också i och med innehållet då det verkligen känns att de har blivit "censurerat" av The Comics Code Authority(alla comics som var tvungna att bli godkända enligt dem för att publiceras under ganska många år). Det märks typ framför att på ordvalen, då man inte direkt tar till vissa uttryck. Superlöjligt men intressant att det verkligen märks i comics:en.
Den här comics:en har jag varit intresserad av att läsa ganska länge, mycket på grund av eventet Death of The Family som skedde i The New 52-världen. Men också för att berättelsen har haft ganska stort inflytande på många Batman-comics som publiceras idag(även animerade filmerna (ex. Under The Red Hood!). Därför var det roligt att läsa själva grundberättelsen.
Jag tycker att de var en spännande och underhållande story. Verkligen kul att få lära känna Jason Todd innan allt det här händer, men också intressant att följa Batman/Bruce efter händelserna i den här boken och introduktionen av Tim Drake. Även fast jag inte direkt lockades av själva illustrationerna så var det en en bra och viktig story att ha läst(/ha koll på) inom Batman-världen då det ofta refereras till den på ett eller annat sätt.
Intressant är ju också det faktum att läsarna fick vara med och avgöra Jason Todd's/Robins öde. I dagen kultur pratar man en del om konvergenskulturen och att vi som vanligtvis har varit passiva konsumenter av kultur/böcker/filmer även har blivit aktiva producenter av kultur i och med att vi påverkar vad som skapas(ex. pengarna till Veronica Mars-filmen kom från fansen i och med en insamling och liknande) och även för kulturen vidare med exempelvis fanfiction och liknande. Vad som är intressant är att man när de här numren släpptes gav läsarna möjlighet att ringa in till antingen ett nummer för att Todd skulle överleva eller ett annat för att han skulle dö. Jag tycker att det är häftigt att man faktiskt gjorde något sådant på 80-talet och överhuvudtaget lät fansen bestämma hans öde. Coolt.
Helt klar en läsvärd comics!