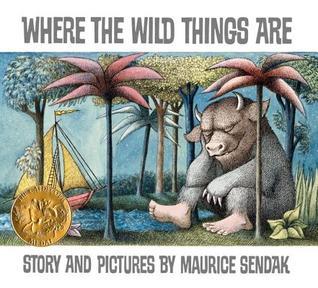 One night Max puts on his wolf suit and makes mischief of one kind and another, so his mother calls him 'Wild Thing' and sends him to bed without his supper. That night a forest begins to grow in Max's room and an ocean rushes by with a boat to take Max to the place where the wild things are. Max tames the wild things and crowns himself as their king, and then the wild rumpus begins. But when Max has sent the monsters to bed, and everything is quiet, he starts to feel lonely and realises it is time to sail home to the place where someone loves him best of all.
(beskrivning lånad från goodreads, finns även på bokus, cdon och adlibris)
Jag vet inte om jag tyckte att den här var direkt revolutionerande. Absolut fina bilder. Dock tyckte jag inte att story var så otroligt bra. Först blir typ Max förtryckt och sedan förtrycker Max andra. Jag vet inte om jag tycker det är den mest fantastiska handlingen. För att flika in med en liten kommentar här så inser jag att andra antagligen har en ganska annorlunda uppfattning om vad detta "förtryck" är ,*host* uppfostring *host*, men nej så låter er ej luras!
Det häftigaste med boken är just kompositionen, upplägget, flytet och övergångarna i hur den är gjord. Bilderna byggs successivt på med mer och mer detaljer för att sedan förvandlas till en annan bild. När den sedan har nått sitt "max" vänder processen tillbaka igenom och bryter ned världen igen. Det var faktiskt snyggt gjort.