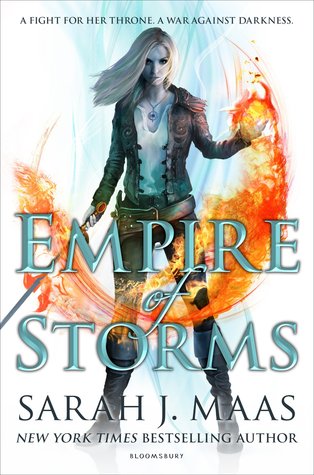 The long path to the throne has only just begun for Aelin Galathynius. Loyalties have been broken and bought, friends have been lost and gained, and those who possess magic find themselves at odds with those don't.
As the kingdoms of Erilea fracture around her, enemies must become allies if Aelin is to keep those she loves from falling to the dark forces poised to claim her world. With war looming on all horizons, the only chance for salvation lies in a desperate quest that may mark the end of everything Aelin holds dear.
Aelin's journey from assassin to queen has entranced millions across the globe, and this fifth installment will leave fans breathless. Will Aelin succeed in keeping her world from splintering, or will it all come crashing down? (beskrivning lånad från goodreads, finns även på bokus, cdon och adlibris)
Jag önskar att jag vore mer pepp på den här serien än vad jag är. Det är en helt okej serie. Bra och spännande story. Trevliga (alltså, i bemärkelsen att det är trevligt att läsa om dem) och intressanta karaktärer, och spännande värld att utforska.
Men av någon okänd anledning sätter det sig inte hos mig. Jag har skrivit det här innan om de tidigare böckerna. Jag upplever det inte som fantastiskt bra. Tyvärr, riktigt tråkigt. För det är ändå ganska bra, men jag upplever det inte som riktigt episkt som andra gör!
Men kommer antagligen läsa den sista boken med!