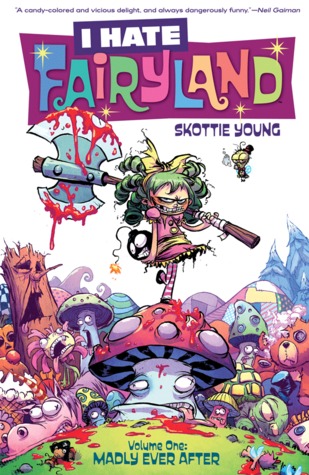 From superstar writer and artist Skottie Young (
Rocket Raccoon
,
Wizard of OZ
,
Fortunately, The Milk
), comes the first volume of an all-new series of adventure and mayhem.
An Adventure Time/Alice in Wonderland-style epic that smashes its cute little face against grown-up, Tank Girl/Deadpool-esque violent madness. Follow Gert, a forty year old woman stuck in a six year old's body who has been trapped in the magical world of Fairyland for nearly thirty years. Join her and her giant battle-axe on a delightfully blood-soaked journey to see who will survive the girl who HATES FAIRYLAND. (beskrivning lånad från goodreads, finns även på bokus, cdon och adlibris)
Det här var ju faktiskt väldigt roligt! Författaren har bara gått all out crazy med det här. Absurt underbart. Det blir en sådan rolig blandning i den här färgglada sago-världen och allt blod och dödande. Så bra!
Helt klart en rolig volym och rolig grej liksom, men jag är lite tveksam till hur peppad jag är på att läsa vidare i serien. Det är inget som jag känner att man verkligen måste läsa och följa.