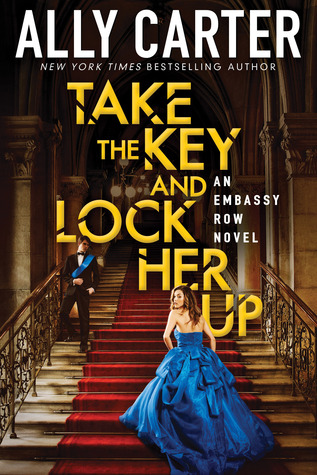 THE PRINCESS IS DEAD.
LONG LIVE THE PRINCESS.
Centuries ago, the royal family of Adria was killed . . . or so everyone thought.
Now Grace Blakely knows the truth:
There was one survivor, and that survivor's blood runs through her veins. This simple fact could cause a revolution — which is why some people will stop at nothing to keep it from coming to light.
There is only one way for Grace to save herself, save her family, and save the boy she loves. She must outmaneuver her foes, cut through the web of lies that has surrounded her for years, and go back to the source of all her troubles, despite the risk.
If she wins, she will inherit a throne.
And if she loses, she will inherit the fate of all the dead princesses who came before her. (beskrivning lånad från goodreads, finns även på bokus, cdon och adlibris)
Det är alltid trevligt att läsa Ally Carters böcker. Spännande handling, cool setting, intressanta karaktärer och så vidare. Även vissa djupare tankar/budskap i serien som får en själv att börja tänka. Dessutom skriver hon på ett sätt som jag verkligen tycker om. Jag får ett väldigt bra flyt i läsningen och det är relativt enkelt. Det är bara bra hela vägen igenom.
Tyvärr tycker jag att hon har fastnat lite för mycket i sin genre. För det händer saker i den här serien som lika väl skulle kunna ha hänt i Gallagher Girls eller i Heist Society. Det blir lite för mycket av samma. Visserligen skriver hon bra saker inom genren och jag tycker verkligen inte hon ska sluta med den här typen av böcker. Men tycker att hon måste hitta sätt att urskilja olika karaktärer tydligare på något sätt.
Annars, en väldigt trevlig läsning!
För övrigt, helt sjukt att det är typ 3-4 år sedan vi fick den senaste Heist-boken! Var så bummed out när jag läst klart den och visste att det var slutet för Heist under de här åren som Embassy Row publicerats. Vi fick en liten novell i slutet av förra året med Heist-gänget, men hoppas verkligen på att vi får mer hela böcker från Carter om dem! Embassy Row har varit bra, men Heist är snäppet bättre!