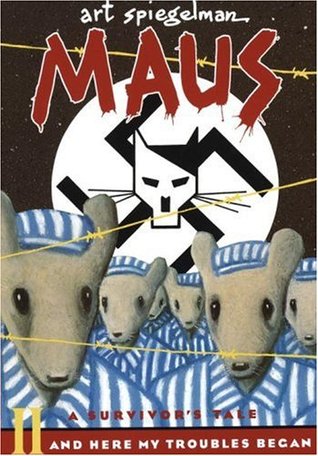 Acclaimed as a quiet triumph and a brutally moving work of art, the first volume of Art Spieglman's
Maus
introduced readers to Vladek Spiegleman, a Jewish survivor of Hitler's Europe, and his son, a cartoonist trying to come to terms with his father, his father's terrifying story, and History itself. Its form, the cartoon (the Nazis are cats, the Jews mice), succeeds perfectly in shocking us out of any lingering sense of familiararity with the events described, approaching, as it does, the unspeakable through the diminutive.
This second volume, subtitled
And Here My Troubles Began
, moves us from the barracks of Auschwitz to the bungalows of the Catskills. Genuinely tragic and comic by turns, it attains a complexity of theme and a precision of thought new to comics and rare in any medium.
Maus
ties together two powerful stories: Vladek's harrowing tale of survival against all odds, delineating the paradox of daily life in the death camps, and the author's account of his tortured relationship with his aging father. At every level this is the ultimate survivor's tale - and that too of the children who somehow survive even the survivors. (beskrivning lånad från goodreads, finns även på bokus, cdon och adlibris)
Läs om första volymen här!
Andra volymen handlar om Vladeks erfarenheter från Auschwitz, fram till slutet av kriget och även hans liv "idag" när han berättar hans historia. Precis som i den första volymen så fortsätter Spiegelman att berätta den här hemska berättelsen på ett fantastiskt bra sätt.
Något som jag tänkte mycket på när jag läste den här volymen var just Spiegelmans sätt att använda det visuella för att berätta berättelsen.
Med comics har man möjligheter att berätta berättelser på ett sätt som man inte kan på något annat sätt. Spiegelman är fantastiskt duktig på att använda det visuella med mediet för att visa på känslor, tankar, idéer och liknande. För ibland finns det saker som man bättre kan berätta genom att visa dem än att skriva dem med ord. Bilderna nedan är exempel på detta. När Art som vuxen sitter och pratar med en psykolog och målar sig själv nästan som ett litet barn. Det är genialiskt snyggt gjort och man förstår vad han vill förmedla. Och bara den detaljen att Spiegelman målar sig själv med en rått-mask. Inte som råtta, eller något annat, utan just att han har den där masken på sig. Jättebra.
Här ser vi ju även skillnaden mellan hur typiska comics från DC Comics och Marvel vanligtvis är gjorda och comics som den här. Där DC och Marvel producerar så kallade "mainstream comics" medan Maus snarare kan kallas en "art comics".
Läs mer om de olika definitionerna här!
Jag har inte så mycket mer att tillägga än det jag redan har skrivit angående dessa volymer. Det finns jättemyckt med de som man skulle kunna diskutera. Men kort och gott så är det väldigt läsvärda, häftiga och hemska böcker. Spiegelman fick Pulitzer-priset för de här böckerna och det är välförtjänt.
Läs mer om Comics Education här!