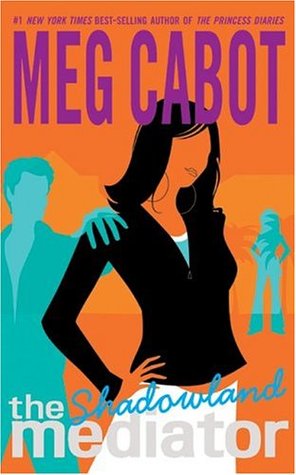 There's a hot guy in Susannah Simon's bedroom. Too bad he's a ghost.
Suze is a mediator - a liaison between the living and the dead. In other words, she sees dead people. And they won't leave her alone until she helps them resolve their unfinished business with the living. But Jesse, the hot ghost haunting her bedroom, doesn't seem to need her help. Which is a relief, because Suze has just moved to sunny California and plans to start fresh, with trips to the mall instead of the cemetery, and surfing instead of spectral visitations.
But the very first day at her new school, Suze realizes it's not that easy. There's a ghost with revenge on her mind... and Suze happens to be in the way. (beskrivning lånad från goodreads, finns tyvärr INTE att komma åt på bokus, cdon och adlibris längre. Era bibliotek har dem säkert!)
Meg Cabot skriver oftast väldigt bra böcker. De är lättlästa, underhållande och roliga. Det är bara trevligt att läsa. Cabot ska efter många år publicera en ny bok i denna serien nästa år. Därav tänkte jag att det var dax för en omläsning.
Efter att ha läst böcker om Mistborn, Outlander och liknande i år, så inser man hur icke-omfattande Cabots böcker är. Jag slogs nämligen av att det typ inte händer någonting i den här boken. Vad kan det vara, typ 10 "scener"?! Problemet är att vissa karaktärer kanske blir lite för ensidiga, men om man ser det ur ett större perspektiv så är ju berättelsen 6 böcker lång. Detta är kanske även lite mer en tween-bok så hon kanske inte ville ha dem särskilt mycket längre. I och med att jag gillar dem och tycker de är underhållande så, är det inte heller ett större problem för min del heller.
Har egentligen inte så mycket att säga utan att det är en trevlig läsning. Ska försöka hinna med de andra innan den nya boken kommer ut!