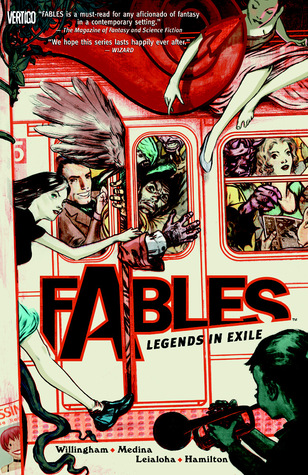 When a savage creature known only as the Adversary conquered the fabled lands of legends and fairy tales, all of the infamous inhabitants of folklore were forced into exile. Disguised among the normal citizens of modern-day New York, these magical characters have created their own peaceful and secret society within an exclusive luxury apartment building called Fabletown. But when Snow White's party-girl sister, Rose Red, is apparently murdered, it is up to Fabletown's sheriff, a reformed and pardoned Big Bad Wolf (Bigby Wolf), to determine if the killer is Bluebeard, Rose's ex-lover and notorious wife killer, or Jack, her current live-in boyfriend and former beanstalk-climber. (beskrivning lånad från goodreads, finns även på bokus, cdon och adlibris)
Det här var ju jättebra. Tyvärr har jag nog inte fattat grejen med den tidigare. Dumt av mig. För jag har haft den här i min bokhylla i ett antal år(typ 4år om jag får gissa!)!
Fables anses väl ändå vara en av de bättre comics serierna som finns. Den avslutades tidigare i år efter 22 volymer om jag inte minns fel - något där omkring. Vilket är imponerande. Det var på tiden att den första volymen lästes.
Fables handlar alltså om massor av sago eller fabel-karaktärer som har blivit förvisade(exiled) till New York där de har ett eget (hemligt) community i människornas community. Jag tycker att det är ett väldigt roligt koncept, med alla dessa sagokaraktärer som man känner igen men samtidigt med en ny tappning. Vilket är jättekul. Jag känner till de "stora" karaktärerna om man säger så men man får även träffa många andra karaktärer som jag inte alls känner till.
Dels verkar serien handla om hur de lever i New York men samtidigt får vi även reda på en del av hur de kom att bli exiled till New York och liknande. Dock är väl det senare en aspekt som säkerligen kommer att utvecklas mer i kommande volymer. För jag är inte helt säker på vart det här är på väg. I den här volymen följer vi Bigby Wolf(big bad wolf) men jag funderar på om vi alltid kommer att följa honom, och generellt hur serien är uppbyggd. Kommer det bara att vara olika brott som ska lösas eller vad? Jag måste alltså läsa vidare!
Väldigt bra första volym. Spännande koncept och handling, generellt rolig och intressant. Ska bli kul att läsa vidare och se vart det här tar vägen!