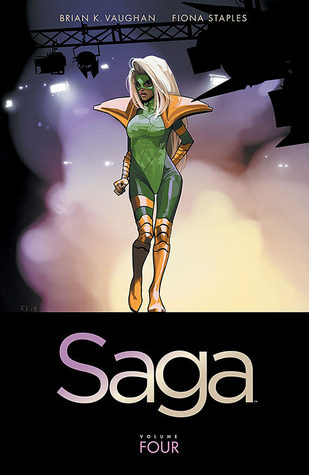 Visit new planets, meet new adversaries and explore a very new direction, as Hazel becomes a toddler while her family struggles to stay on their feet. (beskrivning lånad från goodreads, finns även på bokus, cdon och adlibris)
Saga är återigen fantastiskt bra. Den är så brutal i sin ärlighet och även fast det är en "totally-out-there", crazy, magnificent, rymd-äventyr story så tar de ändå upp ämnen som är högst relevanta idagens samhälle.
"Did you know that you could die from diarreah? That you can literally shit yourself to death?" (Page something). Och häromdagen drack Bill Gates vatten utvunnit ur avföring för att människor i världen fortfarande inte har tillgång till rent vatten.
Vaughan och Staples integrerar detta så snyggt och så intelligent i berättelsen att man kan inte bli annat än imponerad.
Ibland är det så absurt att man inte kan göra annat än att skratta. Men samtidigt säger det mängder om hur vi lever idag. Detta exempelvis(klicka INTE in på bilden om ni vill ha det relativt spoilerfritt!):
Fantastiskt bra. Det går nästa inte att beskriva hur bra det här är. Det är bara att läsa det och bli förundrad. Underbart.
Ghüs!