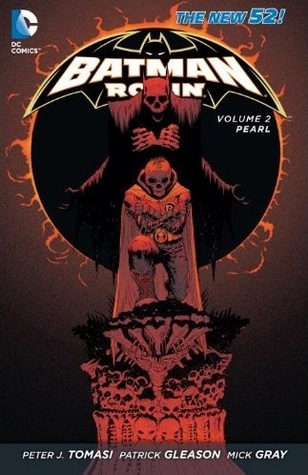 After the events of
Batman and Robin
, Volume 1:
Born to Kill
, it's obvious that Damian has a long way to go before he'll be accepted into Gotham City's crimefighting family. Will Damian ever be able to live up to the standards that Nightwing, Red Robin and Red Hood set before him?
After a battle with the former Robins, can Damian's convictions stand up to a confrontation with the Dark Knight's greatest foe: The Joker? (beskrivning lånad från goodreads, finns även på bokus och adlibris)
Jag satt länge och undrade varför volymen hette Pearl. Genom hela boken tänkte jag på det, och självklart fick man veta det på sista sidan. Tack för den!
Iallafall, bra volym. Jag gillar Batman and Robin-serien. I den här volymen får vi dels veta mer om Damians bakgrund med Talia Al-Ghul som mamma och allt vad det innebar. Vi får även mer Damian/Bruce-relation och även resten av familjen blandas in mer i den här volymen(Robin vs. alla de tidigare Robins!). Det är dessa bitar av den här serien som jag tycker är mest intressanta.
Samtidigt behöver man en bra story i volymen och det får vi. Själva handlingen i den här volymen är spännande och rolig att läsa, samtidigt som Tomasi bygger upp för vidare berättelser. Vi får även veta vad Damian gjorde under Night of The Owls!