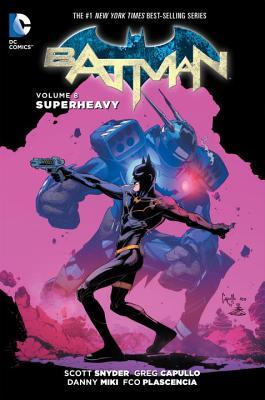 The #1
New York Times
all-star creative team of Scott Snyder, Greg Capullo and Danny Miki introduce an all-new Dark Knight, with guest appearances by Brian Azzarello (WONDER WOMAN) and Jock (BATMAN: THE BLACK MIRROR).
Following the disappearance and presumed death of Batman, former police commissioner Jim Gordon has been called to carry on the Dark Knight's legacy and become his successor.
But while the name and what it stands for remain the same, this new Batman is far from just a copy of the original. Patrolling the city in a gargantuan high-tech Batsuit, Gordon is no shadowy vigilante. He has the full cooperation of the GCPD and the mayor, plus a multimillion-dollar budget from Powers International.
But will an expensive suit be enough to stop the mysterious, weed-like Mr. Bloom before his deadly plans for the city take root? (beskrivning lånad från goodreads, finns även på bokus, cdon och adlibris)
Jag tyckte att den här volymen var jättebra. Verkligen. Helt suverän.
Bra referenser till tidigare grejer - inte bara Snyders egna serie utan även annat inom Batman-världen. Intressant karaktärsutveckling för flera karaktärer. Sjukt cool skurk. Spännande handling. Och framförallt - ett bra/intressant djup i storyn. De verkligen problematiserar Batman - vem han är och står för och gör för Gotham på ett otroligt spännande och intressant sätt. Kan vem som helst ta på sig "The Cowl" och bli Batman? Och göra det som Bruce Wayne har gjort för Gotham som Batman? Det ni!
Coolt, riktigt coolt.
Snyder och Capullo gör ju ett fantastiskt jobb med det här. Så snyggt och så bra ideer/skrivet. Underbart. Bra läsning!