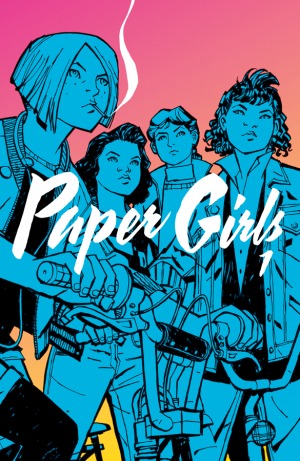 In the early hours after Halloween of 1988, four 12-year-old newspaper delivery girls uncover the most important story of all time. Suburban drama and otherworldly mysteries collide in this smash-hit series about nostalgia, first jobs, and the last days of childhood. (beskrivning lånad från goodreads, finns även på bokus, cdon och adlibris)
Jag hade inte direkt koll på vad den här handlade om innan jag köpte den. Det är ju Brian K. Vaughan så den köptes direkt. Jag överraskades lite av alla övernaturliga element dock tyckte jag att det var coolt, spännande och häftigt. Gillar blandningen av settingen i en suburb/förort och med vissa övernaturliga aspekter/fenomen.
Det var länge sedan jag nämnde något om intertextualitet här på bloggen, tror jag. Men som sagt, jag gillar när folk gör bra referenser i böcker/filmer/tv-serier/comics. Den här volymen är fylld av referenser. Jag snappar nog inte upp alla i och med att den ska utspela sig på 80-talet men det finns en hel del spännande referenser.
Dessutom väldigt fint illustrerad. Vilket alltid är ett plus!
Kanske inte lika awesome som Saga men ändå en väldigt trevlig comics att läsa!