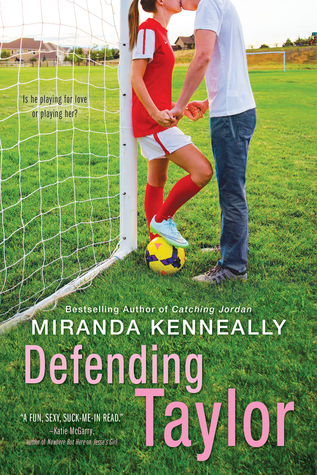 There are no mistakes in love.
Captain of the soccer team, president of the Debate Club, contender for valedictorian: Taylor's always pushed herself to be perfect. After all, that's what is expected of a senator's daughter. But one impulsive decision-one lie to cover for her boyfriend-and Taylor's kicked out of private school. Everything she's worked so hard for is gone, and now she's starting over at Hundred Oaks High.
Soccer has always been Taylor's escape from the pressures of school and family, but it's hard to fit in and play on a team that used to be her rival. The only person who seems to understand all that she's going through is her older brother's best friend, Ezra. Taylor's had a crush on him for as long as she can remember. But it's hard to trust after having been betrayed. Will Taylor repeat her past mistakes or can she score a fresh start? (beskrivning lånad från goodreads, finns även på bokus, cdon och adlibris)
Tidigare böcker i Hundred Oaks:
1. Catching Jordan
2. Stealing Parker
3. Things I Can't Forget
4. Racing Savannah
5. Breath, Annie, Breath
6. Jesse's Girl
De här recensionerna av Miranda Kenneallys böcker börjar bli väldigt upprepande. Jag skriver samma sak om alla känner jag, men det här är typ som Nora Roberts böcker fast för YA. Man kan förvänta sig en trevlig läsning, med intressanta karaktärer, kul setting och bra budskap. Det ger en jättebra grund för en bra bok. Dessutom skriver Kenneally på ett enkelt, lättsamt och underhållande sätt vilket gör det hela ännu bättre.
Jag gillade verkligen att Taylor faktiskt spelar fotboll i den här boken. Miranda Kenneallys böcker är typ de enda som jag har läst som innehåller sport, och även i de här böckerna är det inte särskilt mycket "in-game" scener där man verkligen för följa karaktärerna under träning eller tävling. Önskar att det fanns mer sådana böcker.
Det kommer åtminstone en bok till i Hundred Oaks-världen. Finns ännu ingen information eller omslag till boken så vi får helt enkelt vänta och se vad den kommer att handla om. Kommer i nuläget någon gång nästa år!