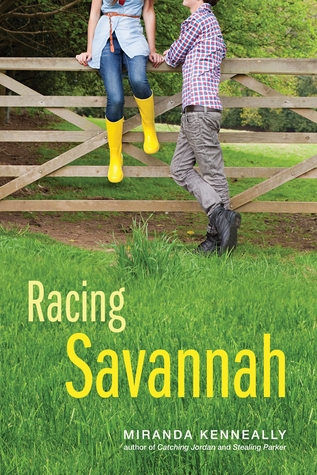 They're from two different worlds.
He lives in the estate house, and she spends most of her time in the stables helping her father train horses. In fact, Savannah has always been much more comfortable around horses than boys. Especially boys like Jack Goodwin—cocky, popular and completely out of her league. She knows the rules: no mixing between the staff and the Goodwin family. But Jack has no such boundaries.
With her dream of becoming a horse jockey, Savannah isn't exactly one to follow the rules either. She's not going to let someone tell her a girl isn't tough enough to race. Sure, it's dangerous. Then again, so is dating Jack… (beskrivning lånad från goodreads, finns även på bokus, cdon och alibris)
Här hittar du recensioner om de tidigare delarna i Hundred Oaks: Catching Jordan, Stealing Parker och Things I Can't Forget!
När det kommer till contemporary-YA så är nog Kenneally en av mina favoritförfattare. Jag gillar att hennes böcker ofta innehåller idrott/sport på ett eller annat sätt. Hon skapar även dessa underbara karaktärer som är intressanta att följa. Och hon levererar en meningsfull berättelse på ett enkelt, bra, roligt och underhållande sätt.
Jag är verkligen inte särskilt intresserad av hästar och så, men jag tycker ändå att det var ett roligt inslag i berättelsen för att få fram budskapet i boken. Jag upplever dessutom att jag lättare förstår budskapet som Kenneally vill få fram med storyn än om jag till exempel läser Dessens böcker. Jag vet inte om det bara är jag som lättare kan relatera till boken eller om det är Kenneally's sätt att skriva. Men jag gillar det - att det faktiskt finns någon slags sensmoral med hennes böcker som man faktiskt uppfattar.
Den här boken har en slags social klass aspekt, och allt vad det kan innebära för en medborgare i USA. Hur man ser på relationer till andra, vilken plats man har i samhället, hur man ser på utbildning och utbildningsmöjligheter och så vidare. Jag vet inte om alla tänker på detta när de läser boken men är man medveten om det så märker man nog ändå av det. Dock är det fortfarande väldigt lätthanterligt och helt i stil med allt annat Kenneally skriver.
Det är bra spenderad tid att läsa Kenneally's böcker. Ser framemot att läsa de fortsatta böckerna i Hundred Oaks serien.
Ps. det är alltid kul att återse karaktärerna från de tidigare (och introduktion av de i kommande) böcker i serien. Bland annat på ett bröllop!