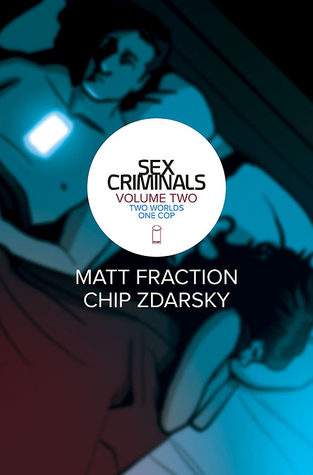 The second storyline from the Eisner-award winning SEX CRIMINALS finds the honeymoon to be over for Jon and Suzie. Once the thrill of new lust fades, where do you go? Come along and laff and love with Matt and Chip as they brimp back ceaselessly against the past. (beskrivning lånad från goodreads, finns även på bokus, cdon och adlibris)
Läs om volym 1 här!
Sex Criminals är totally ridiculus, absurt och viktigt. Totalt hämningslöst och underhållande.
Första numret i den här volymen tycker jag är ett av de bästa i serien hittills. Men genom hela den här volymen har de en telefon(se omslaget!) med sig som låter vid vissa specifika tillfällen. Och det händer ganska ofta att den låter vi illa valda tillfällen. Tillslut lyckades de faktiskt med att få till och med mig att tycka det var störande att telefonen låter. Det är otroligt skickligt att faktiskt få igenom den känslan till en läsare.
Men när en comic book kan vara lärorik och ger "life lessons" då har man lyckats, tycker jag!
Totalt stört (i.e. anspelningar på allt, en del väldigt ingående bilder med mera) men underhållande, fint och svårt(as life is).