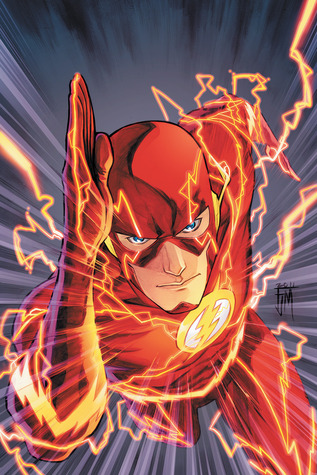 The Fastest Man Alive returns to his own monthly series from the writer/artist team of Francis Manapul and Brian Buccellato! The Flash knows he can't be everywhere at once, but what happens when he faces an all-new villain who really can! As if that's not bad enough, this villain is a close friend! (beskrivning lånad från goodreads)
Helt okej. Framför allt var det roligt att läsa någonting innan tv-serien börjar (som vid tiden för läsning av detta inlägg har gått på tv i några veckor) så att man får lite uppfattning om det hela.
Precis som med Aquaman och Wonder Woman hade jag inte alls så bra koll på bakgrunden kring The Flash - hur han kom att bli världens snabbaste man. Dock tas det inte direkt upp i detta inledande numret heller utan det verkar som att det krävs lite mer text för att komma in på origin-storyn. Vilket är lite av en besvikelse men ändå förståeligt eftersom de bara har typ 20 sidor på sig. Men men.
Däremot kan jag verkligen rekommendera tv-serien The Flash. Än så länge är de bra, tror och hoppas att det kommer att hålla i sig.