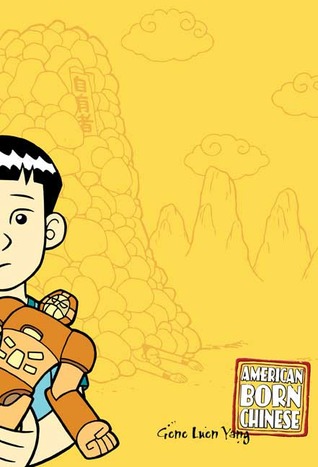 All Jin Wang wants is to fit in. When his family moves to a new neighborhood, he suddenly finds that he's the only Chinese American student at his school. Jocks and bullies pick on him constantly, and he has hardly any friends. Then, to make matters worse, he falls in love with an all-American girl...
Born to rule over all the monkeys in the world, the story of the Monkey King is one of the oldest and greatest Chinese fables. Adored by his subjects, master of the arts of kung-fu, he is the most powerful monkey on earth. But the Monkey King doesn't want to be a monkey. He wants to be hailed as a god...
Chin-Kee is the ultimate negative Chinese stereotype, and he's ruining his cousin Danny's life. Danny's a popular kid at school, but every year Chin-Kee comes to visit, and every year Danny has to transfer to a new school to escape the shame. This year, though, things quickly go from bad to worse...
These three apparently unrelated tales come together with an unexpected twist, in a modern fable that is hilarious, poignant and action-packed.
American Born Chinese
is an amazing rise, all the way up to the astonishing climax--and confirms what a growing number of readers already know: Gene Yang is a major talent. (bekrivning lånad från goodreads, finns även på bokus, cdon och adlibris)
Det här är en av de comics som återkommande nämns i akademiska texter och böcker om comics. Den används som bevis för att comics kan vara något mer än bara det klassiska med superhjältar och tanklöst innehåll som comics fördomsfullt vanligtvis innehåller.
Och det är en väldigt bra och rolig berättelse. Boken tar upp ett väldigt intressant och viktigt ämnet, angående hur individer från olika kulturer identifierar sig och anpassar sig till nya kulturer och miljöer. Jag som pluggar till engelskalärare kommer i kontakt med den här tanken ganska ofta då språk och kultur är nära sammankopplade. För vissa innebär det att kunna flera språk väldigt mycket för hur man identifierar sig och det kan bli svårt att identifiera sig med en specifik kultur.
Med rör på oss i världen idag mer än någonsin så är det ju även intressant och viktigt att förstå vad det innebär för individer att "ha" flera kulturer med sig.
Utöver att innehållet är väldigt bra leveras det på ett bra sätt. Det är
skickligt
presenterat utan att det trycks upp i ansiktet på en som läsare. Som sagt så är den även väldigt rolig att läsa. Kanske inte det snyggaste illustreringen om man jämför med andra comics då det är ganska mycket "cartoon" över det hela. Men det funkar ändå!