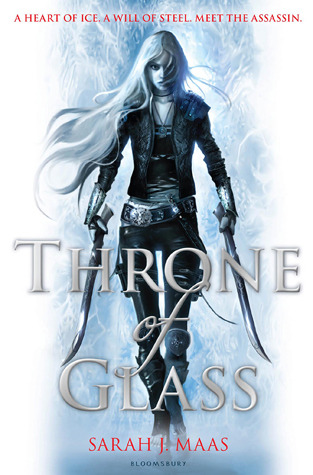 Meet Celaena Sardothien.
Beautiful. Deadly.
Destined for greatness.
In the dark, filthy salt mines of Endovier, an eighteen-year-old girl is serving a life sentence. She is a trained assassin, the best of her kind, but she made a fatal mistake: she got caught.
Young Captain Westfall offers her a deal: her freedom in return for one huge sacrifice. Celaena must represent the prince in a to-the-death tournament—fighting the most gifted thieves and assassins in the land. Live or die, Celaena will be free. Win or lose, she is about to discover her true destiny. But will her assassin's heart be melted? (beskrivning lånad från goodreads, finns även på bokus, cdon och adlibris)
Varför har jag inte läst det här tidigare?!
Det här är nämligen en "solid" och bra läsning. Jag är kanske inte over-the-moon, totally ecstatic, out-of-my-mind förtrollad av boken men det är en väldigt bra läsning. Jag gillar settingen, att hon är en assassin, hela grejen med magin och allt vad det innebär, karaktärerna är fantastiska och jag kan bara fortsätta med bra kritik.
Jag undrar ju dock om Maas hade läst Mistborn precis innan hon började skriva den här. Det finns en hel del likheter om man säger så. Inte för att jag klagar - även Mistborn är fantstiskt bra och det är ju verkligen inte en ripp-off av han arbete eller något så jag köper det.
Hur var de nu, var vi mitt uppe i triangel-drama hypen när den här publicerades 2012? Det känns som att vi har lämnat det lite i böcker som publiceras nu (inser dock att jag inte läser så jättemycket YA längre) men i tidigare böcker med detta har jag nästan alltid haft en favorit. Vilket jag visserligen har nu med men jag gillar verkligen dem båda. Och det gör hela grejen ännu jobbigare. Jag bara tänker mig hur ni som redan läst de nästkommande böckerna i serien sitter och tänker: "Oh, you just wait. Things will happen. You know/feel nothing yet." Jag känner det på mig. :)
Bra första bok i serien. Ser fram emot att läsa de andra - hoppas verkligen att vi får följa med på lite uppdrag i nästa bok!