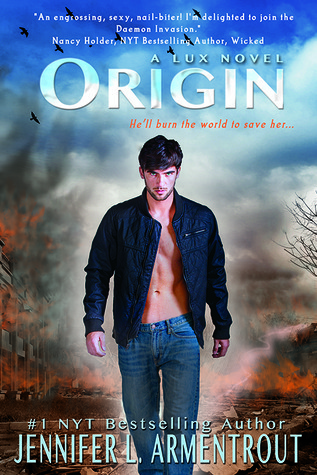 Daemon will do anything to get Katy back.
After the successful but disastrous raid on Mount Weather, he's facing the impossible. Katy is gone. Taken. Everything becomes about finding her. Taking out anyone who stands in his way? Done. Burning down the whole world to save her? Gladly. Exposing his alien race to the world? With pleasure.
All Katy can do is survive.
Surrounded by enemies, the only way she can come out of this is to adapt. After all, there are sides of Daedalus that don't seem entirely crazy, but the group's goals are frightening and the truths they speak even more disturbing. Who are the real bad guys? Daedalus? Mankind? Or the Luxen?
Together, they can face anything.
But the most dangerous foe has been there all along, and when the truths are exposed and the lies come crumbling down, which side will Daemon and Katy be standing on?
And will they even be together?
(beskrivning lånad från goodreads, finns även på cdon och bokus)
Tyvärr kommer här en ganska identiskt inlägg som har kommit om de två tidigare böckerna i Lux-serien här i veckan. Bra bok, bra story, enkelt skriven = bra läsning.
Jag tror nog att detta är den bästa boken än så länge. Spännande, actionfylld, "revelation-"fylld, nördig, rolig och även lite söt ibland. Sista sista scenen var lite överraskande(för en gångsskull var något överraskande!). Det ska bli roligt att läsa den sista boken(för det är väl den sista boken?), som kommer till hösten, Opposition.
Lite SPOILER tankar:
1) The Origins. Alltså whaaaaaat? Inte särskilt förvånande utveckling i boken men ändå whaaat? Hoppas dock att vi kommer att få se Micha(that was his name right?!) igen - dock är jag inte säker på att det kommer att hända.
2) Matthew. Vad håller du på med? Suck.
3) The baby. Vad kommer att hända där liksom? Är lite inne på att det kommer att vara värsta twilight-födsel. Då The Origins inte verkar ha någon förälder kvar. Eller? Fast då borde väl ändå pappan överleva?! Tänker mig också att de måste ta sig tillbaka till area 51 för att skaffa mer information om Origins. Det är också i det sammanhanget som Micha kommer in igen. Spekulationer. Vi får se vad som händer
4) Den über-korta introduktionen av Hunter och Serena från spin-off boken Obsession. Jag kommer inte ihåg vad den boken slutar med men jag antar att även de kommer att dyka upp i den sista boken.
Det är väl mina tankar från/om Origin. Bra läsning. Ser fram emot nästa bok!